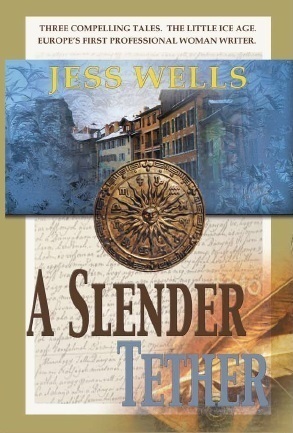 Amid the turbulent weather of Europe's Little Ice Age, A Slender Tether offers three compelling tales of self-discovery, woven into a rich tapestry of 14th century France. Christine de Pizan, daughter of a disgraced court physician and astrologer, grapples with her ambition to be the first woman writer in France. A doctor finds an unusual way to cope with the death of his wife. And opportunity alternates with disasters in the lives of four commoners, yoked by necessity: a paper-maker struggling to keep his business, a falconer with a mysterious past, a merchant's daughter frantic to avoid an arranged marriage, and a down-on-his-luck musician with a broken guitar and the voice of an angel.
Reviews:
Three remarkable stories
By Tinney S. Heath
This extraordinary trio of stories by Jess Wells is well titled, because each tale speaks of the slender tether that ties each of us to our sense of what is normal in our lives - our wellbeing, our livelihood, our happiness and safety. Everything can change in a moment, and, inevitably, it does.
The three stories are subtly linked, again by a slender tether, though each stands alone. The first tale introduces a Christine de Pizan who is very different than I expected, powerful yet flawed. She is a person I can believe in: medieval woman, intellectual, gifted writer, mainstay of her family, independent spirit. Monique, the woman in the third story, is also convincing as she discovers her strength, develops a skill she can take pride in, and stubbornly makes her own way in the world.
Both Christine and Monique make mistakes, but they (and several of the more sympathetic male characters as well) persevere. They think, act, and sometimes make a mess of things, like real human beings in all times and places. These stories seem to me to celebrate human ingenuity, resourcefulness, and resilience.
One theme Wells explores in considerable depth is the very personal nature of one's relationship to his or her work. Pride of craftsmanship, intellectual curiosity, ambition, renunciation of one's talents, and finding joy in work all play their parts. The writing is sure, the voice arresting and original. Places come alive; the seasons are painted skillfully, there for the reader to experience. In the third story, Wells takes a common historical fiction cliché and deftly turns it on its head, to the delight of this reader, at least.
Highly recommended to readers interested in the lives of medieval people who were neither royalty nor members of the nobility, and who are all the more individual and interesting for that.
Brilliantly told historical fiction
By Nathan Burgoine
If you like historical fiction even a bit, you owe it to yourself to grab this book. If you've never tried historical fiction, I daresay Jess Wells could market herself as the gateway drug for readers. She is accessible without sacrificing the honesty and historical accuracy, and never falls into the trap of rote retelling. History breathes in her words.
Historical Fiction
By Christina Paige on June 11, 2013
Format: Paperback
A Slender Tether is a trio of stories about the ties of family, responsibility, and affection, and the sometimes conflicting yearling for freedom and creativity. They are set in France during the reign of King Charles VI, who really did go mad and commit the follies described, so the fiction is well grounded in carefully researched history. For example, Christine de Pizan, the heroine of the first story, is NOT a fictional invention. She was perhaps the single most innovative woman in Europe since Queen Eleanor and before Queen Elizabeth.
The writing stile is sometimes direct, sometimes whimsical, with unusual comparisons or phrasings that made the reading experience very fresh...[with] a luminous ending. I could visualize surroundings or imagine the sensations the characters were undergoing.
Three intriguing stories from a world most of us never knew
By Kara Wild
Format: Paperback
All three stories in A Slender Tether are unique, and provide a glimpse of medieval Europe that would be unfamiliar to many of us. Set in France during the Hundred Years War, the stories focus on the life of an extraordinary real individual (Christine de Pizan), a melancholy Gong Farmer, and a young woman (Monique) who invests in a paper mill to avoid an arranged marriage. It is a sweet, mournful story with haunting imagery that reads like a folk tale. Again, the author reveals her impressive knowledge of medieval French history by, at one point, detailing the remedy the Gong Farmer concocts for a sick woman who unexpectedly becomes his patient. It is hard to say that such a story should be longer, since the purpose is to act as a sort of folk tale rather than a literal account of someone's life. The final story is the best developed and flows well. The author's language is lovely throughout, ranging from lyrical to quirky (for instance, Christine at one point describes her mother as "a footstool with a face"). Those interested in history, especially medieval history, would find this volume of stories well worth their time.