Jaguar Paloma and the Caketown Bar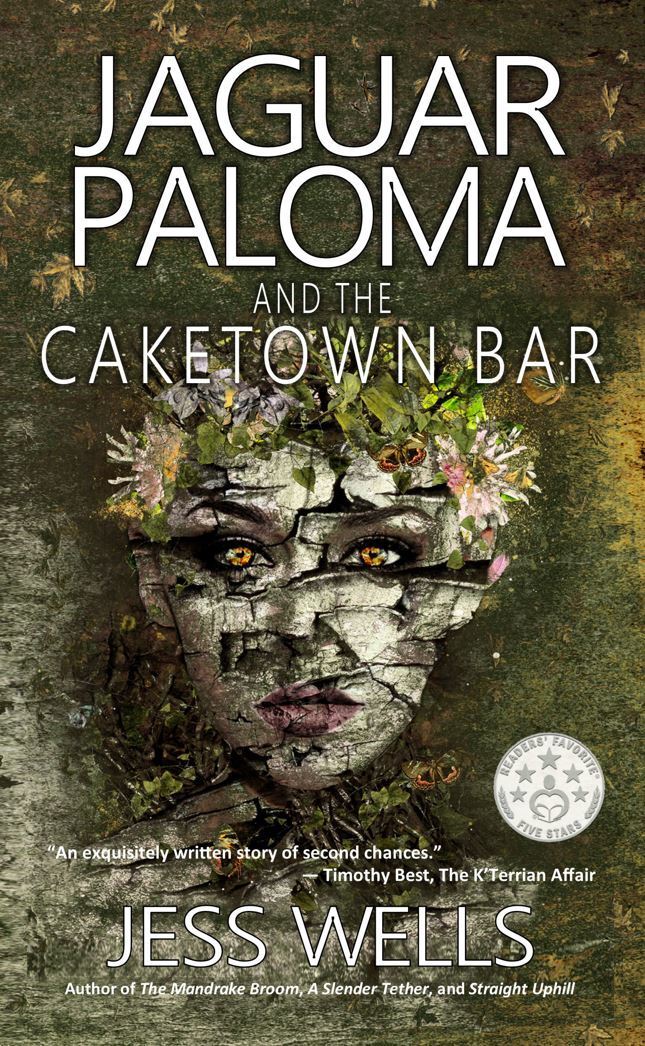 Jaguar Paloma and the Caketown Bar
In 1865 in the shanty town of Tartatenango, the Caketown Bar is owned by the extraordinary Jaguar Paloma, matriarch of a village of raucous miscreants, cast-off mothers, muleteers, and forgers. Amid drunken monks, a roaring trade in faked marriages just for fun, and the Romani, all balance on the knife-edge between legality and the illicit. Co-founder Orietta Becerra is breathtakingly beautiful and ambitious. But when she crosses the tracks and marries the town's mayor, her double life severs her friendship with Paloma and the town starts to pay the highest of prices. Adding to the chaos is a murderous forger, and a Civil War that claims men before their time.
Caketown – men want to destroy it. Women want to play in it. The township itself has to fight on all sides to survive.
Told in evocative magical realism, Jaguar Paloma and the Caketown Bar is a tale of wronged women who stand up to be counted.
Reviews:
"This is a completely unique and captivating story that quickly drew me in, as each character and their experiences were introduced in such compelling ways. The ability of Paloma, Orietta and their friends to basically build a world where they all belonged in Caketown speaks to the misfit in all of us. This is a story of people who rose above rejection, hatred, and abandonment, built their own world, and then had to battle against the evils of war and a terrible man. It is also a story of mistakes, betrayal, and loss, and the way we fight to come back from that. This novel is steeped in magical realism but contains an even more powerful magic—the one that happens when a kind soul reaches out to the abandoned or neglected, and they begin to blossom." -- Bonnie Demoss, The Historical Novel Review
**
"Jaguar Paloma and the Caketown Bar" by Jess Wells is a masterfully written, original and mesmerizing tale of marginalized people fighting against the odds. With a touch of the magical, the exquisite prose brings to life the strange and intriguing world of folks who, despite being rejected by society, can create something amazing when working together. The subtly hidden messages, vivid descriptions and unique characters, make it one of the most beautiful novels I have ever read." – Katerina Dunne, author of Lord of the Eyrie
**
"Jess Wells is an enchantress who weaves words into a magical spell of a book that completely charmed me into believing every larger-than-life character and each magically real event. There is something musical, even symphonic in the way Wells can sustain so many interwoven narratives from the first thematic opening phrases on inevitably toward the marvelous conclusion. Her writing has a rhythmic, singing quality. She can deftly sustain luxurious sentences paragraphs and chapters; and also capture a human frailty or foible in a short, mordant turn of phrase.
Jaguar Paloma and the Caketown Bar is a celebration of many wonderful women. The giantess Jaguar Paloma and her devastatingly beautiful friend Orietta are emblematic of contrasting aspects of being a woman. Jaguar evolves into a goddess who leads, inspires and nurtures an incongruous collection of women damaged by men, religion, and war, helping them find self confidence and joy together, even as their fortunes rise, fall and indomitably rise again. Orietta wrestles with the burden of her beauty, and the curse of being smarter than the men who would dominate her. And then there are the other marvelous characters: the tiny Hummingbird Jade and her tiny daughter Jewel, Cosmo who falls for her, the drunken monk and Agnes the (fallen) nun, twins, brides, forgers, conmen, muleskinners, Romani, a banker ... in the end despite all that has marked them, the female (and some of the male) characters, are triumphant.
If you hear the music in Keats' words in "Ode to a Grecian Urn" or if you delight in the lilting Welsh voice of Dylan Thomas "Under Milk Wood", if the rhythms and rimes of Tennyson's "Lady of Shallot" sing in your memory, if you read Ursula LeGuin's "A Wizard of Earthsea" with your ears, then you will relish the richness of Jess Wells' writing." -- Seymour Hamilton, author of The Astreya Trilogy, on Amazon.com Canada
**
"Jess Wells found the perfect mixture of mystery and intense action to draw readers in and make them stay until the end. Contemporary writers don't delve much into magical realism, so finding this novel was a pleasant surprise for me. Jess Wells fully explored this literary theme and exposed readers to the best of it. The pace of the story is fast, the descriptions are incredibly rich, and the plot is magical! Perhaps the most entertaining novel I have read this year." -- Rabia Tanveer for Readers' Favorite
**
"Author Jess Wells has crafted a gorgeously unique work that places women at the forefront of adventure and weaves seamlessly realistic fantasy elements into the piece with flair and panache. A novel with oodles of style, original ideas and the authoritative, confident narrative to back it up. An absolute treasure to read." – K.C. Finn, Readers' Favorite
**
"A story filled with unusual characters, and a wonderful ride for readers who enjoy carefree laughter, quirky situations and dialogues, and magical realism. Add the drama to these qualities and you have a rollicking ride in Jaguar Paloma and the Caketown Bar....the way Jess Wells describes the village gives it a soul of its own. This author takes readers to such a place and gives them the most enviable company of well-developed, likable, and fun-loving characters. It is a page-turner for fans of character-driven novels and stories that excel in humor and adventure. You won't be able to put this book down." – Divine Zape for Readers' Favorite
**
"I thoroughly enjoyed the vivid details throughout the whole book. The captivating characters played their parts well and kept my attention until the last page. This story has a lot of different issues going on, many twists and turns that take you on a different trail.. But in the end, Wells does a fabulous job of weaving everything together and creating an ending that will stay with me for a long while. I encourage you to check out this story and all of its wonderful people." – Joy Hannabass for Readers' Favorite
**
"Magical realism is a breathtaking genre and Jess Wells has a unique voice in creating this quirky shantytown, where strange qualities are grounded in the reality of the characters' emotions. The story is character-driven with a variety of voices explored, and it's through these voices that the magical elements are brought to life. Jaguar Paloma and the Caketown Bar is a magical realism treat that has an exploration of humanity, a celebration of differences, female empowerment, and a whimsical town, at the heart of a journey of loss, life, and love." – Liz Konkel for Readers' Favorite